In order to create an organisation account follow the easy steps below
1. First go to our website www.mychoicepad.com and click 'Start your Free Trial'
2. You will then be brought to the pricing screen and it says "Choose your plan". Select schools and organisations. Select the number of people from 3+ and select Try it out. Then you create your free 14 day trial account.
3. Next you will need to enter your email address and choose a password. The email you use here will become the first ADMIN account and as such will have access to all user data generated by MyChoicePad within the organisation. P​lease ensure that this is an internal email address.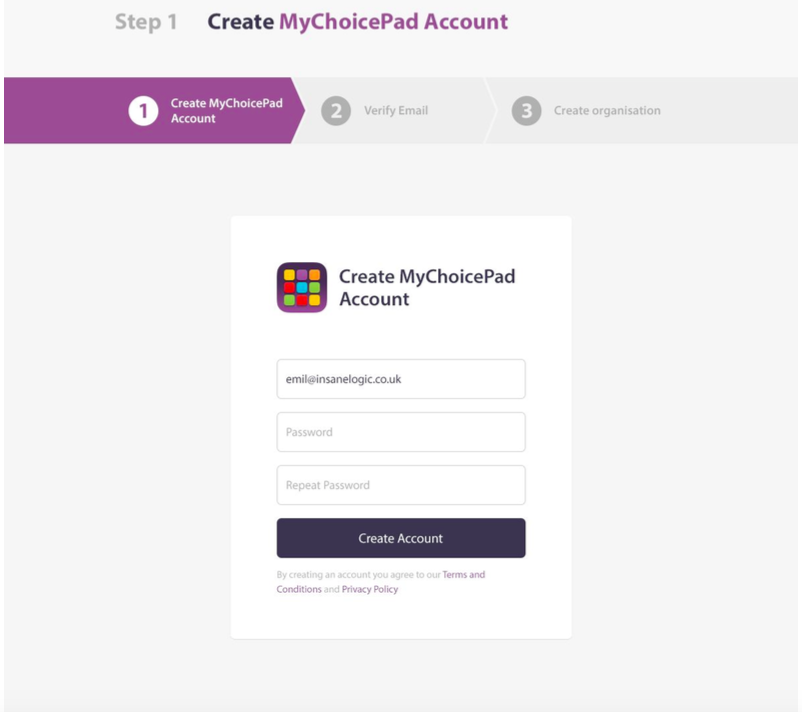 4. A verification email will be sent to the email address provided. Open the email and click on the "​Confirm my email address" ​link in the message body.
Set up your organisation account by filling in your organisation's details. When you've finished click "Done" to continue.
Now it's time to invite the staff members who will be using MyChoicePad. At this point it would be useful to have a f​ull list of these email addresses to hand,​if you do not then you can invite staff later.
To invite a staff member enter their email address into the box shown below and click "Send Invite".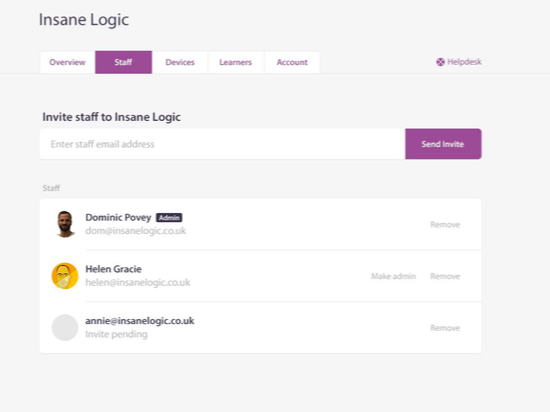 8. You can now access the dashboard which will give you an overview of your organisation. This includes who your admin is, how many staff are on the platform, and under billing you can pay by credit/debit card or request an invoice for the number of licences you are looking for.
Inviting Staff
1. When a staff member has been invited they will receive an email with a link to the page below. They need to create a password (their email address is their username).
2. The staff member is now a part of your organisation. On the MyChoicePad iPad app they​ m​ust log in with this email address.
3. Open the MyChoicePad app and Click "Login". Login with the email address which was invited to the organisation and the password created by the staff member. Then click "Log in".
4. Add details and a photo to your individual (staff) profile.
Now your organisation should be all set up!
The next step is now to add learners, for a guide to adding learners click here:
https://insanelogic.zendesk.com/hc/en-gb/articles/204949569-How-do-I-create-a-user-